Get in on this great opportunity!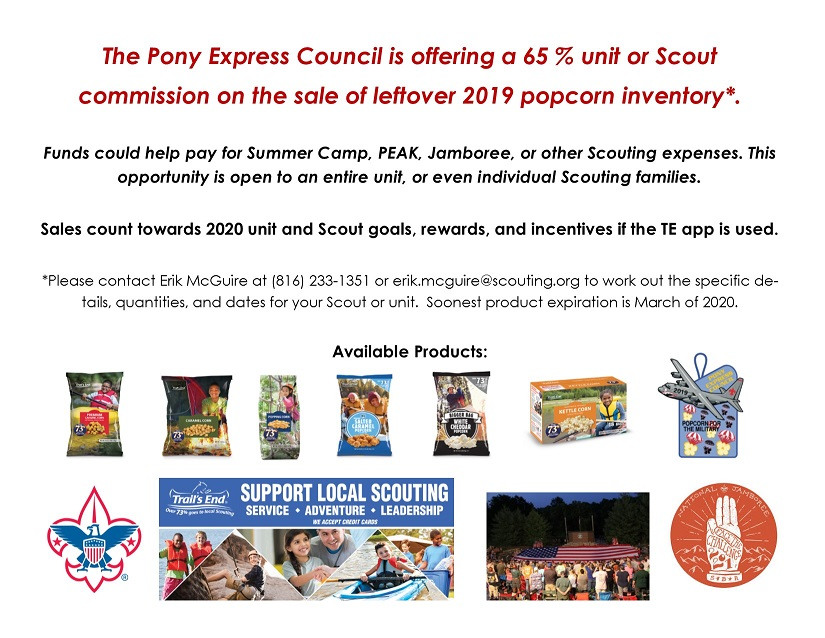 Key Dates to Remember
Units who register online using this link are eligible for a free banner and square reader!!!
8/1/19 | Popcorn Seller's Academy at Word of Life Church in St. Joseph... Units with 2 or more Scouts and 2 or more adults in attendance earn 2 % bonus commission
8/30/19 | Unit show and sell orders due in the popcorn system
9/12-13/19 | Show and sell order pickup in St. Joseph
9/14/19 | First day of traditional popcorn sales
10/19/19 | Last day of traditional popcorn sales; show and sell returns/payments due at Scout Office

10/21/19 | Unit final orders due in the popcorn system
10/30 – 11/1/19 | Final order pickup at district sites
11/8/19 | $1,000+ sellers forms and prize orders due
11/27/19 | Final order payments due to Council
12/8/19 | Spin 'N Win Party for $1,000+ achievers at East Hills Shopping Center
Resources
The Trails End App is available for download by all Scouts and Parents starting June 17

This app can be used to take credit card payments, track sales, and manage show and sell inventory

Popcorn System for product ordering, scout sales tracking, invoices, and training:http://scouting.trails-end.com/
Online Selling website for families and Scouts to create and share their fundraising pages: https://www.trails-end.com/
Popcorn Distribution Sites
Details about the schedules for specific warehouses and distributions will be sent to kernels in advance of order pickups.
All Show and Sell (September) popcorn is distributed at the St. Joseph Brown Transfer and Storage warehouse at 1320 N. 6th. Contact is Erik at (620) 481-0910.
October (Final Order) Sites:
St. Joseph | Brown Transfer and Storage at 1320 N. 6th | (620) 481-0910
Trenton | GFG Ag Services at 805 Harris | (660) 359-6180
Maryville | Williams Lawn Seed at 222 W. South Hills Dr. | (660) 582-4614
Atchison, KS | Berger Warehouse at 316 ½ Commercial | (913) 367-3700
2019 Unit Commission Structure:
25 % Direct to Your Unit
6 % Bonus Commission Pool for on-time payments- bonuses comprised of:

2 % for 2 or more Scouts and 2 or more adults attending the 8/1 Sellers Academy
2 % for your unit participating in the Trails End Rewards Program
2 % for unit sales growth over 2018 (includes all online sales, show and sell, and take order)
Units are discouraged from opting out of the new Trails End Rewards Program, but may elect a 5 % cash option upon request, in place of Trails End Rewards. All Scouts will be shown the Trails End Rewards in the new Trails End App. Trails End Rewards are replacing the National Supply Prize Program for 2019.

Starting at sales over $500, Scouts earn rewards, when combined with the 2 % bonus, puts the benefit to the Scout at 6 % of their sales. For $1,000 in sales, the benefit is 6.5 % to the Scout. At the $5,000 sales level, the Scouts benefit is 9 % of their sales.


Contact: