National Scout Jamboree

July 21-30, 2021
The National Scout Jamboree 2021 has been postponed.

Live Scouting's Adventure
Scouting's flagship event is one-of-a-kind. It's a gathering of approximately 40,000 Scouts, leaders, and staff that showcases everything that is great about the BSA and its members. Over the course of 10 summer days, once every four years, the Boy Scouts of America comes together. The result is the national Scout Jamboree. To keep up with the latest information, visit the Summit Jamboree website.
Scouts and Scouters will explore all kinds of adventures—stadium shows, pioneer village, Garden Ground hikes, adventure sports, patch trading, and more—in the heart of one of nature's greatest playgrounds. With 10,000 acres at the Summit to explore, there's no shortage of opportunities to build Scouting memories.
The jamboree is the best of Scouting rolled into 10 days of fun, friends, and adventure. You won't want to miss out on this incredible Scouting experience.
**NEW** Any youth planning to attend should complete the Youth Interest Form as soon as possible. Submit the Youth Interest Form to the scout office along with your $250.00 deposit. Once submitted the parent/guardian will be contacted with more details and instruction on how to register online.
We do offer an ACH payment plan for those who are interested.

The Pony Express Council's contingent size is 40 total. There will be 1 girl troop with 2 adult female leaders and 8 female youth and 1 boy troop with 4 adult leaders and 26 male youth.
Click here for 2021 National Jamboree registration information.
Click here for 2021 Jamboree troop youth and parent presentation.

Schedule your payment to be automatically deducted (ACH) from your bank account by completing the Recurring Authorization Form.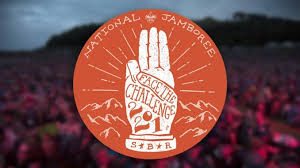 World Scout Jamboree

The 25th World Scout Jamboree will be held in South Korea in 2023.
Participation is open to eligible youth (ages 14-17), unit leaders (18 and older), and International Service Team members (IST, aka Staff, 18 and older).