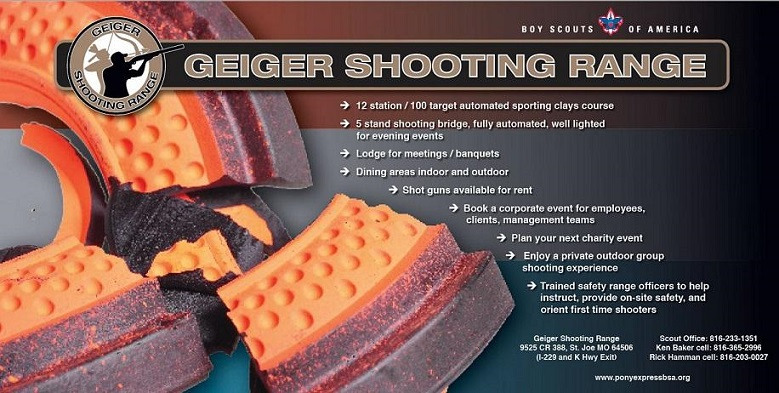 Welcome to the Geiger Shooting Range, an exciting outdoor experience for all sporting clays enthusiasts. Located in St. Joseph, Missouri, this first of a kind facility is built on 40 acres of beautiful rolling hills at Camp Geiger, the local Boy Scout camp. The Geiger Shooting Complex is open to the public for the total enjoyment of individuals, groups and businesses.

Geiger Shooting Range activities:

State of the art Sporting Clays course
Fully automated 5-Stand
Lodge with a relaxing atmosphere
Proceeds from all shooting activities benefit the Pony Express Council of the Boy Scouts of America and will ensure that Camp Geiger can provide successful safe shooting programs to more than 2,000 Cub Scouts, Boy Scouts, and Venturers attending camp each year.
Our unique shooting complex offers an excellent alternative for business meetings or client entertainment. The Sporting Clays course provides a variety of targets suitable for all skill levels. The targets are changed often so shooters can enjoy different presentations each time they shoot. CZ-USA firearms may be rented. Eye and ear protection are mandatory.
The Patrick L Newman Scholarship Shoot 2019

posted February 26, 2019
April 13, 2019 at Camp Geiger (rain date will be Sunday, April 14, 2019)
The 6th Annual Patrick L. Newman Scholarship Shoot is getting closer. Teams still have time to register or come as a single shooter. Please send an email to roberjm2@gmail.com with a list of your names and an email address.
Fee: $70 per person (includes shells, clays, prizes & meal) Time: Registration opens at Noon and shooting starts at 1:00 pm

Prizes and meals to follow at Herzog Lodge, Ken Paden is cooking his world famous dog and brats!
* NEW - we have sponsorship available for each of the trap stations at $50.00 each.
*must bring your own 12 gauge *Sign up teams of 4 or single shooter
For more information please contact:
Michael Robertson at roberjm2@gmail.com or call 573-268-6209.
All proceeds go towards scouting scholarships
Savannah Pig Skin Shootout 2019

posted February 26, 2019

The 6th annual Savannah Savages Booster Club shoot will be held on Saturday April 6th at our Sporting Clays Range. The cost to participate in the shoot is $75.00 per person or $300.00 for a team of four. This does include lunch. There will be two flights. The morning flight starts at 8:30 am and the afternoon begins at 1:30pm. There will be a brief Safety Talk 15 minutes prior to the start times. Please bring eye and ear protection and ammunition.

At 6:30pm there will be a dinner and live silent auction. Doors open at 5:00 pm and the cost for dinner is $10.00 per person. All proceeds go to the Savannah Football Booster Club program and all contributions are tax deductible. If you don't want to shoot you can still come for dinner and auction.
For more information contact Ryan Courtney 816-390-6098.
Pony Express Council 9th Annual Spring Blast
posted February 26, 2019

Pony Express Council Sporting Clays Charity Shoot Saturday, May 4, 2019 at Camp Geiger 9515 County Road 388 St Joseph, MO 64505 (1-229 & K Hwy)

The mission of the Charity Shoot is to provide an avenue for corporations and community leaders to raise funds to support Scouting Programs, which ensures that every youth has the opportunity to participate in the quality character-education program of the Boy Scouts of America.

Event Agenda:

7:00am registration
7:30am 5-Stand and other gaming events open
9:00am Morning Flight
12:00pm Lunch
1:00pm Afternoon Flight
TBD Reception & Awards at Herzog Lodge
Events include:
100 Target Team Shoots
5-Stand & other Games
Lunch Provided
Raffles and Door Prizes

For additional information and or to sign up a team, please contact:
Alan Franks, Pony Express Council : 816-233-1351
alan.franks@scouting.org. www.ponyexpressbsa,org
Geiger in the news!

posted February 24th, 2016 by geiger

New Complex Provides Enhances Shooting Opportunities Link to article: http://www.newspressnow.com/sp... 130427_outdoors_fire#C6D302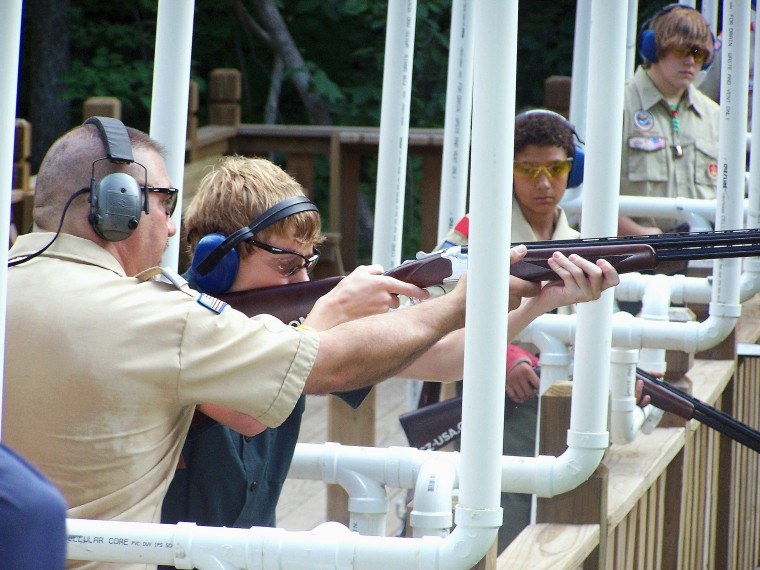 The shooting complex at Camp Geiger provides a state-of-the-art opportunity for outdoor enthusiasts to partake in the disciplines of sporting clay and 5-stand. Ken Baker and Rick Haman, long time scouters– are working together as managing partners at the Geiger Shooting Range at the Wes Remington Shooting Complex. The complex offers both the Pony Express Council of the Boy Scouts and the community with the opportunity to participate in the shooting disciplines of sporting clay and 5-stand. D. L. Miller laid out the design concept of the course located in St. Joseph in 2009.

The proceeds from all shoots go directly into the operating costs of continuing and aiding in the expansion of the Boy Scout program in northwest Missouri. It was built first and foremost to provide a new dynamic outdoor program for our scouting community who utilize Camp Geiger during summer camp as well as around the year. It is however a resource available to the entire community.

Each year, 2,000 Boy Scouts and their leaders come to Camp Geiger during the summer months of June and July. The Boy Scouts utilize the complex to earn their shooting sports merit badges. During that time, they are instructed on the proper handling of firearms.

The sporting clay and 5-stand course is also used as a resource for other outdoor groups such as hunter education courses and by providing a facility for training courses.
Sporting clays began in the United States in 1989 as a way to simulate hunting scenarios with clay targets which differs this discipline from trap and skeet.

The National Sporting Clay Association oversees the regulations of the sport. Only a shotgun with an 8 oz. shot can be used during the sport. This smaller shot provides an extra safety measure while shooting. The maximum shot size that can be used for any clay target discipline is a 7 ½ oz. shot.

The sporting clay course at Camp Geiger is composed of 24 electronic machines with 12 shooting stations that have two shooting presentations. The course is set for 50 - 100 clays and requires two to four boxes of shells to complete.

The discipline of 5-stand is composed of five stations with six to eight clay target throwing machines placed at various locations. Each of the stations has a menu that tells the individual what target from that page they are aiming to shoot. The discipline requires using a box of shells. This is accomplished by shooting five shots at each of the five stands.

The 5-stand at Camp Geiger is located on a deck that is built over a ravine. The individual shoots off the deck that is 14 feet wide and 70 feet long. To review the regulations of the discipline of sporting clays visit the website for The National Sporting Clay Association at www.nssa-nsca.org.
For more information on the range, open shoot dates, fees, rentals or special events, contact : Rick Haman at 816-206-0027 e-mail www.redbow@gmail.com or Ken Baker 816-365-2996 e-mail www.packrock68@yahoo.com


Geiger Shooting Range Pony Express Council Geiger Shooting Range, 9525 County Road 388, St. Joseph, MO 64505